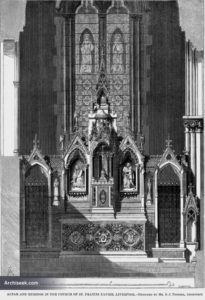 14th April 1858
At St Francis Xavier, Liverpool
In 1840 the laymen who formed the Society of St Francis Xavier decided at a meeting in the Rose and Crown pub, Cheapside, that, as the number of Roman Catholics in Liverpool was growing rapidly, a new church was needed.The foundation stone was laid in 1842 and Joseph John Scoles was appointed as architect.
Scoles went on to design the Church of the Immaculate Conception, Farm Street in London, St Ignatius Church in Preston, and was the father of Ignatius Scoles, SJ, who designed St Wilfrid's Church also in Preston. The church opened on 4 December 1848.
The spire was added in 1883.The church had been designed to hold 1,000 people but this proved to be insufficient for the congregation and in 1888 an additional chapel, the Sodality Chapel designed by Edmund Kirby, was opened.[4] In 1898 the wall dividing the Sodality Chapel from the main part of the church was demolished.